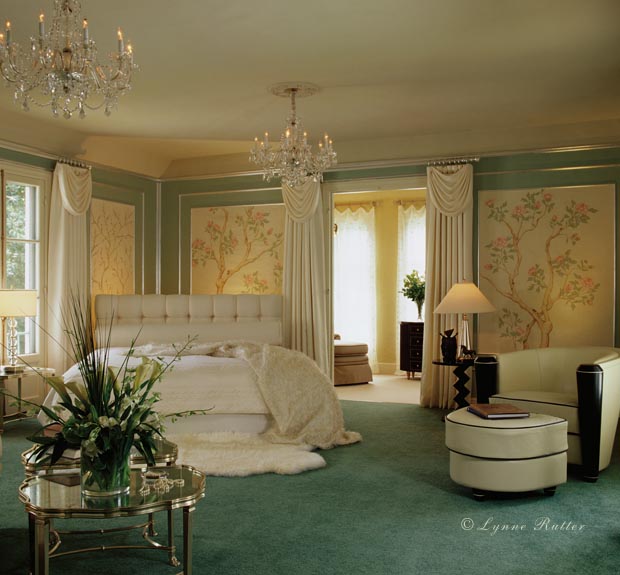 What a gorgeous, romantic bedroom, recalling silver screen Hollywood glamour, bias cut silk lingerie, martinis and cigarette holders....
Interior Designer
Paula McChesney,
designed this Hollywood Regency master bedroom for the 2003
Coyote Point
Decorators Showcase in an historic Hillsborough mansion.
An expert colorist, Paula was understandably concerned about the astroturf green carpet, which we had to keep. The rest of the room- well, it had some problems: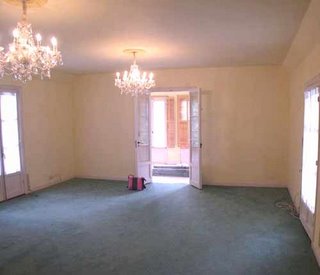 Before: a long rectangular room with green carpet, white walls and a low ceiling beveled on two sides, dueling chandeliers, and not-quite symmetrically placed anything.
The solution: don't fight with the carpet- go green! The walls were painted with Benjamin Moore "Harrisburg Green" HC-132. The ceiling was painted a custom mixed green-grey and the rest of the palette was kept limited.

We paneled the room with three levels of silver moulding, including each corner, and a picture rail which settled the question 'where does the ceiling start?' The moulding was gilt with aluminum leaf in advance at my studio.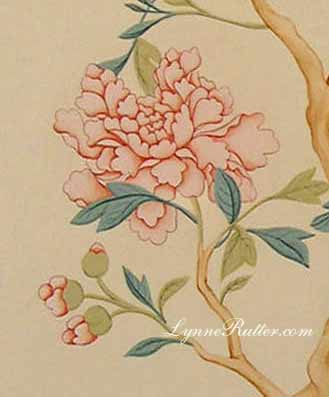 chinoiserie mural detail
For the insets of the panels I painted Chinoiserie murals, using restrained doses of brilliant color. The panels focus attention into the center of each wall, creating the illusion of symmetry, and balancing the architecture. And it was also just darn pretty.
Paula furnished the room all in ivory, like a splendid Jen Harlow gown.
After the showcase ended, the paneling and the murals were installed in one of our client's homes.
I've been collaborating with Paula for over 12 years now. I think this was one of our most challenging and successful rooms.
room

photo by David Duncan Livingston