Quadrattura ceiling design by Pascal Amblard
It is with great excitement that I can announce that I have the honor of hosting my friend the master muralist
Pascal Amblard
, for two mural painting classes at
Lynne Rutter Studio
in San Francisco.
Tiepolo-inspired painting by Pascal Amblard
You've read more about Pascal Amblard's work
here
before, and hopefully bought his amazing book,
Painted Homes
, which explores the wide variety of his elegant work as a muralist and decorator.
A sought-after mural artist working internationally from his studio in
la Haute-Savoie
, Pascal is also well known as a generous and skilled teacher. It's been many years since he taught in the U.S., so I am thrilled to host him in my own mural studio for two special painting classes this summer.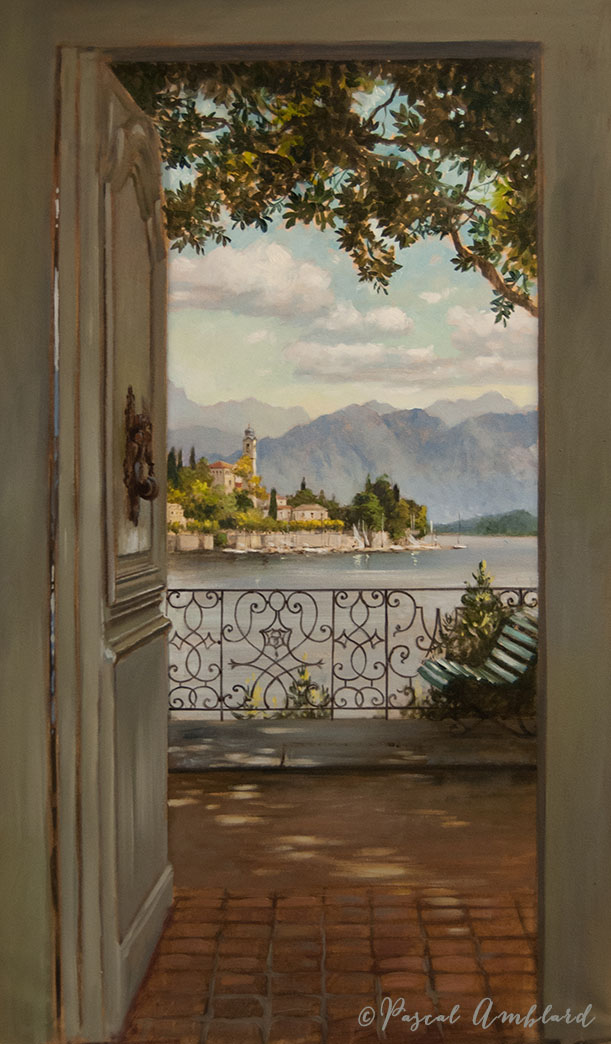 sketch of Lake Como mural by Pascal Amblard
July 27-31, 2015
Five-day Italianate Mural workshop
Participating artists will paint a full-size trompe l'oeil mural scene with a view of Lake Como and a charming Italian landscape, while learning the key elements of mural painting.
"A beautiful landscape seen through a window or a door is certainly the most classic but also the most sought after type of trompe l'oeil mural.
It is also a great support for a class, and this is why, as a teacher, I have specialized in this kind of composition. I can fit and transmit almost all my knowledge into such arrangements. Skies, landscapes, trees, water, foreground elements like balustrades or architectural elements, perspective, and tiled floors, all these things are exactly what you have to become familiar with and a nice panel like the one we will paint together contains them all.Each time I create a class like this I have three goals:
"The first one is to teach you how I paint and this is independent of what I paint. Key techniques are exactly the same whether you paint a tree or a bench. The second one is to tell you about what is really specific to (for example) painting a cloud, or a tiled floor. The third is, for those of you who want it, to make sure that you can complete the panel during the week and use it as a marketing tool or as a piece to sell.
"The design for this mural
was composed from three or four different shots I took on lake Como a few years ago. This place is absolutely magic, a kind of ideal mix of the softness of Italian landscapes and of the grandeur of the Alps. I am sure we will have great results!"
Information and sign-up here:
Italianate Mural class
August 3- 10, 2015
Seven day
Grand Venetian Mural Intensive
This course will give the experienced painter an opportunity to work at a grand scale, employing many advanced techniques.
A preview of the type of composition we will create together ; the architecture and landscapes are borrowed from Tiepolo's frescoes in Palazzo Labbia, and the figures from his son, Giandomenico. We will use similar elements and come up with our own murals.
Pascal says:"After more than 25 years in this business I am finally organizing a "start from scratch" class.
"It is certainly the most valuable learning situation for students, and the most difficult for a teacher. I will of course prepare this class very carefully, I have already spent quite a few hours on it~ but on day one, hour one, instead of starting to play a well mapped out part,
I will start improvising with you!
I know in which key we will play and what note to use or to avoid but I will be open to your ideas and suggestions. I will show you how I myself compose, mixing computer and centuries-old techniques.
We will share and experience together in what is so rarely taught:
how do we get from a blank piece of wall to a spectacular, harmonious and desirable mural composition.
"Once the composition is set we will use projectors, possibly some free-hand drawing as well. Then we will paint, and I will teach you the techniques I have used and refined through hundreds of murals.
As we have a lot of working space, we will do this on a grand scale.
Each person will have room to work comfortably.
"A good mural painter has to know about a few topics : skies, landscapes / trees, architecture / perspective , figures / draperies , objects / still lives. Besides composing a large and complex mural, the point of this class is also to cover all these fields.
"The inspiration for this course is Tiepolo (father and son).
I chose them because I think they are lesser-known geniuses, but mostly because they were in exactly the same business as we are: dealing with commissions, clients, deadlines, a need for efficiency and precise schedule. The way they paint is beautiful and technically very sound, so, instead of one teacher you will have two."
Reservation information here:
Grand Venetian Mural Intensive
This class is limited to 8 participants
Previous experience: past students of Pascal Amblard's classes and experienced mural painters will be given priority.
Here is a rare opportunity to learn and practice in a large, light-filled working mural studio with one of the true masters of this art.
Please feel free to
contact the studio
with questions or for application details.