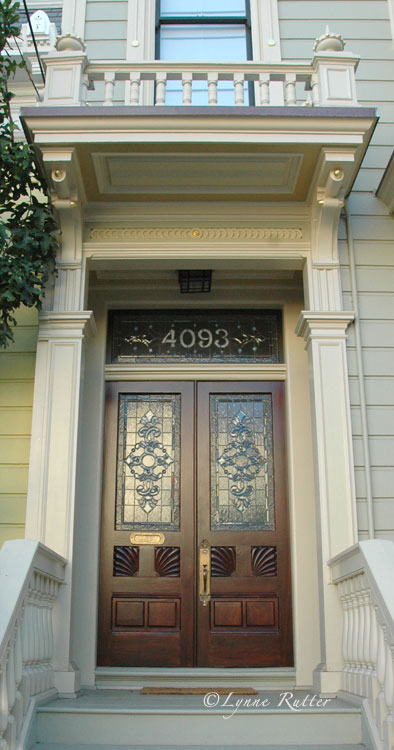 This splendid Victorian front door set with leaded glass windows

was finished with a simplified faux bois effect by Lynne Rutter.
In San Francisco Victorians

, it's fairly common that the dark woodwork so commonly found in their interiors is actually redwood, that has been painted with a
faux bois
finish to look like something richer and more expensive. This style of woodgraining usually emulated mahogany
, and was often nothing more than a layer of deep tinted glaze pulled over a painted surface, then varnished. T
his simplified

faux bois

technique is a remarkably effective treatment.
In older American cities like New York or Chicago the faux bois used in Victorian homes was a complicated process resulting in a realistic imitation of wood, but in boomtown San Francisco, there were few skilled painters available in the rapidly growing city, so most made do with a very simple graining job;
and then it was off to the next house!
One of my specialties as a restoration painter is rehabilitating and recreating these period finishes, which requires careful matching of color and mimicking the style of the original painter.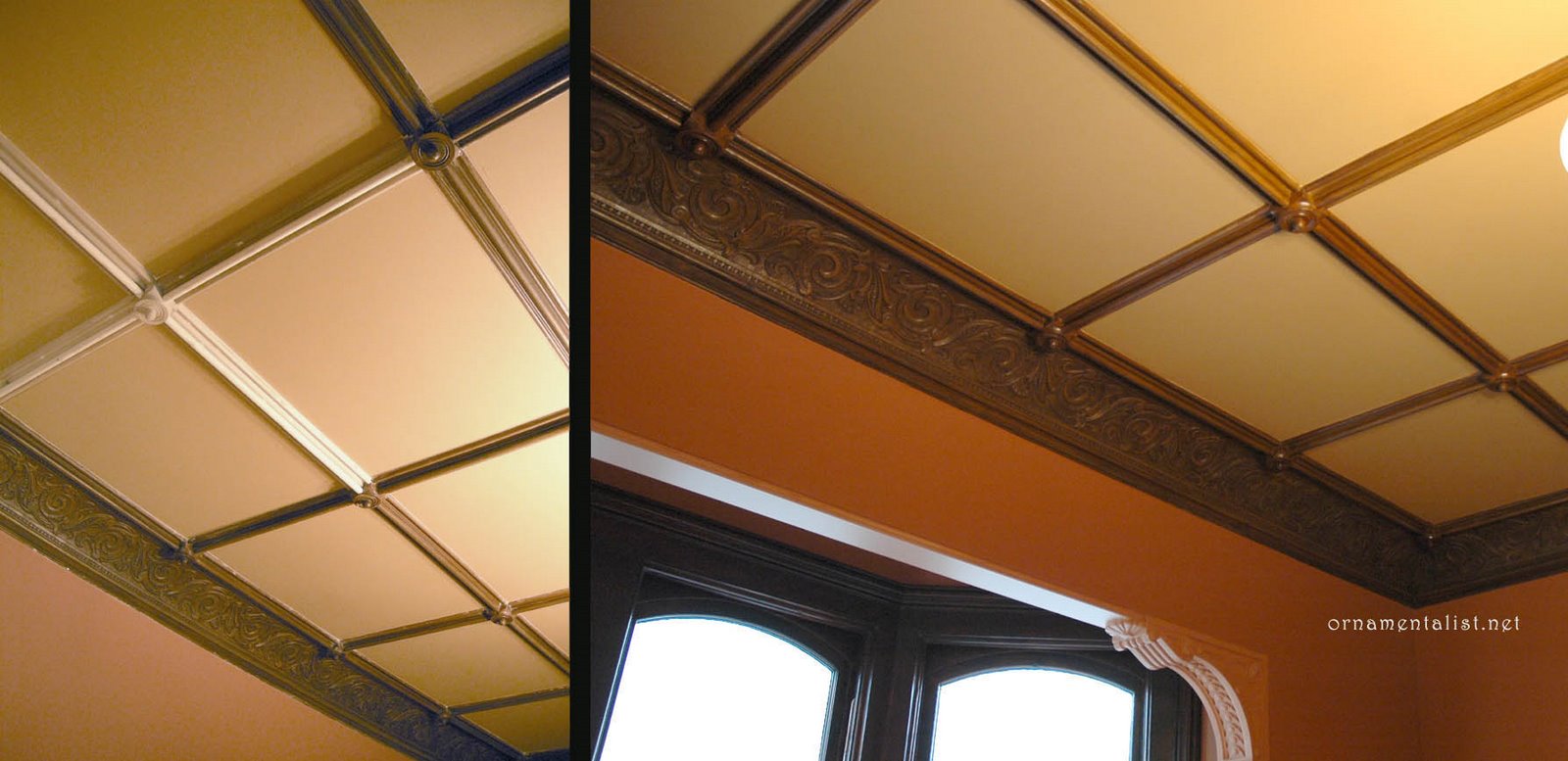 Missing ceiling mouldings were recreated (left) then glazed to match the original finish (right)
In this Mission District Italiante mansion, removal of a 20th century dropped ceiling in the dining room revealed the original mouldings, damaged but well worth saving! Missing areas were re-created by a carpenter, and then we painted them with a woodgrain effect to match the original finish. We also created a typical faux bois finish for the baseboards, doors, and casings, to restore the room's period look.
My associate Melka Myers is creating a burl effect in the insets of some reproduction doors
The parlor in this house had an interesting paneled ceiling that had been painted over many times. I designed a color palette and finishes for this room to create a more Victorian period atmosphere. As you can see the finish starts with a bright, apricot colored base.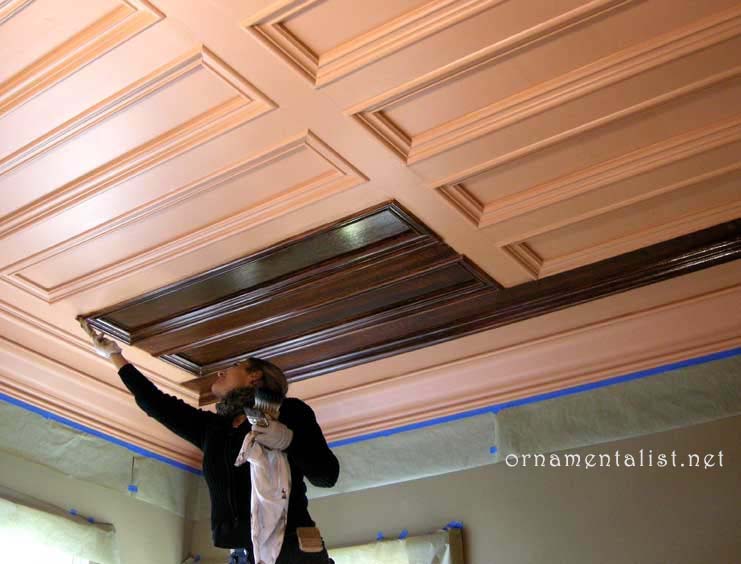 My good friend
Tania Seabock
was available to help us on this project, and worked some magic to create this finish, using a formula I designed that requires only one layer of glaze to skillfully fashion a convincing faux bois finish.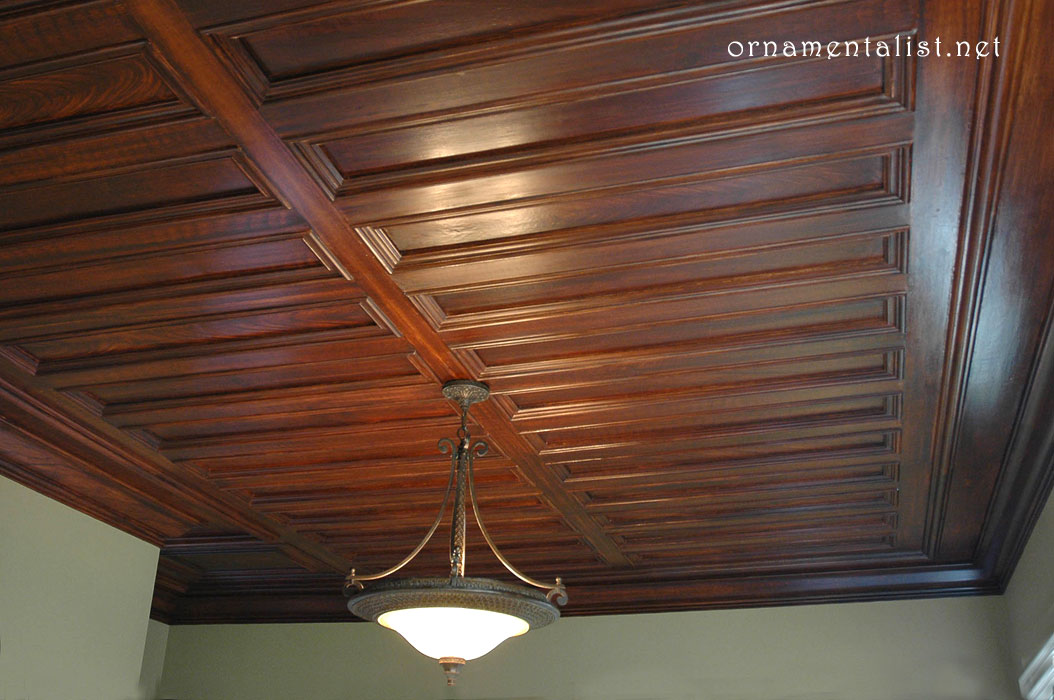 The effect is stunning, so much so that it's hard to believe anyone would want to paint it white. It's worth the extra effort to finish these surfaces as they were intended; you get so much more out of the architecture.
click on any image to view larger