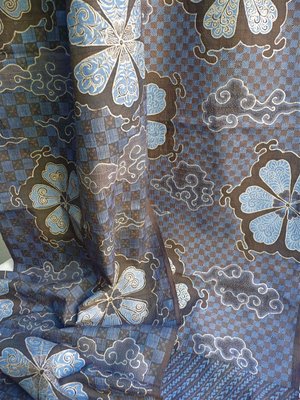 Attention fashionistas and fans of color and fabric!
It's time once again for the Language of Cloth textile sale.

Fridays, Saturdays, and Sundays
from November 28 - December 21, 2008
650-B Guerrero St San Francisco
415-431-7761
the blue: hand woven silk with a kotak-kotak pattern (grid) The issen-issen (batik filler patterns) fill in areas defined by the textured pattern of the weave. This design was inspired by an antique obi.
Every year my good friend Daniel Gundlach brings home a fabulous collection of handmade textiles of cotton and silk from Indonesia, Laos, Vietnam, Cambodia, and Thailand. Unusual one of a kind pieces blending traditional techniques with modern eclectic style. Wonderful for wearing, for decor, and with many affordable choices for gifts.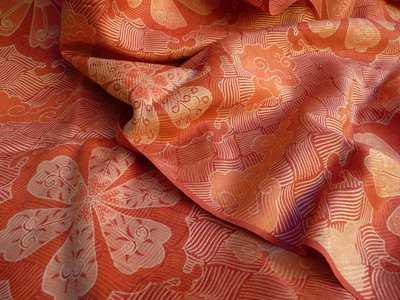 the orange:
hand -drawn batik tulis on Korean silk jacquard, in a flowing basket weave. The batik follows the pattern of the weave in some areas.
Each piece is unique, hand-made using a very labor intensive process, and the sale of this work supports the artists, and the communities in which they were created.