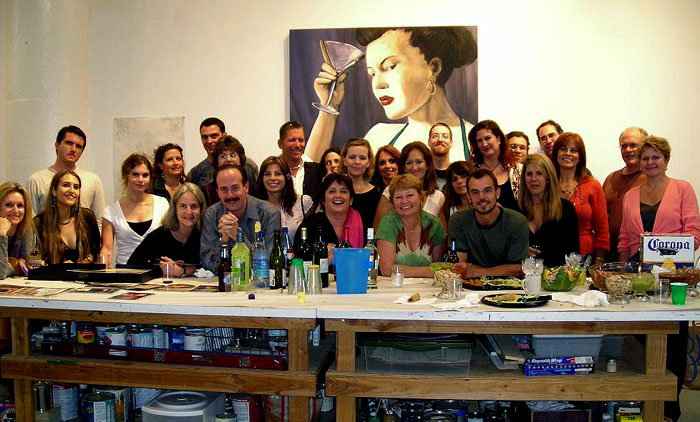 A group of SALI members in Lynne Rutter's Studio, July 2007
Last week the
Stencil Artisan's League
held its annual convention in the San Francisco Airport Hyatt. I'd never attended such a convention before, and as it was local to me, I signed up for some classes being taught by
Lucretia Moroni
and
Tania Seabock
, and dragged my arse to Burlingame at 8 am every morning. I had a lot of fun, met a number of nice painters from all over the world, and got no sleep for 6 days straight.
Lisa Làzàr
and I planned a progressive studio tour for some of the visitors for Friday night. Around 7 PM a boisterous group of artists showed up at my hastily cleaned up Dogpatch studio, where Vera greeted them with Salvadoran food and tequila.
Among the artists in attendance:
Sheri Hoeger
, Ryan Hoeger
,
Jeff Raum
,
Pat Ganino
, Mike and Matt from
Creative Evolution
, Tom McPherson,
Ian and Tania Seabock
,
Lisa Wolfin
, Cleta Grant, Kathy vanGogh,
Arlene Mcloughlin
, Mimi, Margo,
Sass Lassley
,
Bruce Thalman
,
Pamela Hernandez
, Anne Halaby,
Elena Ortega
,
Heather
,
Stacy Carney
,
Pat Strong
,
Kristen Lerner
,
Kristin McNeill
...
We then carpooled over to West Oakland where Lisa runs the scenic studio for the
Berkeley Repertory Theater
: her amazing shop is housed in a 25 gazillion square foot
zeppelin hangar
, clean, well organized, stocked with every tool you could imagine.
Afterwards part of the group wound up at the
DNA lounge
for some after hours dancing. whew!